Shopping Cart
Your Cart is Empty
There was an error with PayPal
Click here to try again
Thank you for your business!
You should be receiving an order confirmation from Paypal shortly.
Exit Shopping Cart
Preparing athletes for success
| | |
| --- | --- |
| Posted on June 28, 2012 at 3:13 PM | |
    Hey everybody, it's another beautiful day in our neighborhood.  With that sun shining bright out there, I hope we're all remembering to keep ourselves sufficiently hydrated. While most of us know that water and other sports drinks can help, I'm betting that not enough of us know that many foods serve as great sources of water too.  The following blog will highlight a great selection of foods that can play a vital role in helping keep our bodies properly hydrated this summer season.  Enjoy!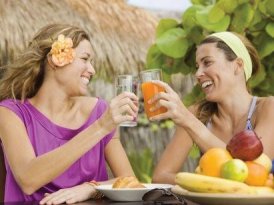 Water aids in digestion, nutrient transportation, and joint lubrication, and helps regulate body temperature, which is particularly important during the hot summer months.
    But only about 80 percent of our water intake comes from drinking. The other 20 percent comes from food. While filling up your water bottle is a good habit, you can also add some of the delicious water-filled foods below to your diet to stay hydrated this summer.
Cucumber - 96% (water content)
Lettuce - 95%
Celery - 95%
Zucchini- 95%
Tomato - 94%
Spinach - 92%
Watermelon - 92%
Strawberries - 92%
Broccoli - 91%
Grapefruit - 91%
Cantaloupe - 90%
Peach - 88%
100% Orange Juice - 88%
Carrots - 87%
Pineapple - 87%
Raspberries- 87%
Apricot - 86%
Blueberries- 85%
Yogurt - 85%
Apple - 84%
Cherries - 81%
Banana - 74%
    There are some very nutritious and delicious options there on that list!  I hope that all of you are already enjoying or willing to try the foods listed above.  As always, please share this with anyone you feel would benefit from the information.  
REFERENCES
Core Performance - Nutrition Newsletter, Katie Butler June 2012
Categories: Nutrition and Food Choices
/